THE RELATIONSHIP BETWEEN PARENTS' KNOWLEDGE LEVEL AND RATIONALITY OF DRUG USE IN DRUG SELF-MEDICATION MANAGEMENT IN CHILDREN WITH FEVER IN PULOMERAK BANTEN
Lia Nurliana

Universitas Faletehan

A. Machron Chairulfakah

Universitas Faletehan

Agung Budiyanto

Universitas Faletehan
Keywords:
Parental Knowledge, Rationality and Self-medication
Abstract
Fever in children is a common condition, especially in children under 5 years of age. Parents have an important role in handling children when they have a fever. Different knowledge of mothers will result in different management of fever in children. Self-medication measures for fever in children vary greatly in the community, some are not yet able to do self-medication because there are very high concerns such as fear of seizures and others. There are also those who have been able to do self-medication with physical therapy or drugs (antipyretics), but rationality in using fever medicine for children can be good and it can be bad. Pulomerak sub-district, Banten. Methods: Analytical observational study with a cross-sectional approach. The results of the research number of respondents in this study were 44 mothers with an average age of mothers was 32.68 ± 7.087. Most of the respondents have low education (45.5%). Most of the respondents' occupations were housewives (31.8%) and most of the family income was above the minimum wage. It was found that 52% of the respondents had low knowledge about fever and it was found that 50% of the total respondents had good and bad management of fever. Based on the results of the Chi square test, it was found that the value of p = 0.002 and the prevalence ratio was 7.0 (1.1 to 46.2) so that it can be concluded that there is a significant relationship between the level of knowledge of mothers about fever and the management of fever in children.
References
Abduelkarem, Abduelmula R. et al. 2019. "Prevalence of Self-Medication with Antibiotics among Residents in United Arab Emirates." Infection and Drug Resistance 12: 3445–53.
Aina, Qori, and Yeni Binteriawati. 2022. "Hubungan Antara Kepuasan Pembelajaran Daring Pada Masa Pandemi Covid-19 Dengan Stress Akademik Pada Mahasiswa Keperawatan." Faletehan Health Journal 9(02): 220–24.
Alhomoud, Faten et al. 2017. "Self-Medication and Self-Prescription with Antibiotics in the Middle East—Do They Really Happen? A Systematic Review of the Prevalence, Possible Reasons, and Outcomes." International Journal of Infectious Diseases 57: 3–12. http://dx.doi.org/10.1016/j.ijid.2017.01.014.
Aoyama, Ikuko, Shinichi Koyama, and Haruo Hibino. 2012. "Self-Medication Behaviors among Japanese Consumers: Sex, Age, and SES Differences and Caregivers' Attitudes toward Their Children's Health Management." Asia Pacific Family Medicine 11(1): 1–9.
Astrid Mukemo, Katumbo et al. 2020. "The Practice of Self-Medication in Children by Their Mothers in Lubumbashi, Democratic Republic of Congo." Journal of Advanced Pediatrics and Child Health 3(1): 027–031.
Aulia, Leviany, Yosi Maria Wijaya, and Asri Endah Nuratri. 2022. "Hubungan Aktivitas Fisik Saat Pandemi Covid-19 Dengan Tingkat Nyeri Dismenore Primer." 09(3): 285–89.
Auta, A. 2012. "Medicine Knowledge and Self-Medication Practice Among Students." African Journal of Pharmaceutical Research and Development 4(1): 6–11. www.ajopred.com.
Chairulfalah, Achmad Machron, and Lia Nurliana. 2022. "Counseling on Clean and Healthy Behavior ( PHBS ) in MTsN 1 Lebak." 6(2): 339–44.
Chipwaza, Beatrice et al. 2014. "Self-Medication with Anti-Malarials Is a Common Practice in Rural Communities of Kilosa District in Tanzania despite the Reported Decline of Malaria." Malaria Journal 13(1): 1–11.
Eldalo, AhmedS, MA Yousif, and TarigM. H. El-Hadiyah. 2013. "Sudanese Parents′ Knowledge, Attitudes and Practice about Self-Medication to Their Children: Qualitative Study." Saudi Journal for Health Sciences 2(2): 103.
Herayati, Agus Rochmat, Lia Nurliana. 2022. "Toxicity and Molecular Docking Approach Phenolic Extract of CreHerayati, Agus RochmaT, Lia Nurliana. 2022. 'Toxicity and Molecular Docking Approach Phenolic Extract of Crescentia Cujete L against the Enzymes Glutathione Peroxidase and Cathepsin K.' 18(02)." 18(02): 102–10.
Irawan, Nasiatin, Titin et al. 2020. "ANALYSIS OF PRODUCTION CAPACITY PLANNING AND CONTROL IN PT . KRAKATAU WAJATAMA WITH ROUGHT CUT CAPACITY PLANNING ( RCCP )." Journal Industrial Enggineering & Management Research 1(2).
Khotimah, Nur Intan Hayati Husnul, Raden Siti Jundiah, Rizky Muliani, and Sriwulan Megawati. 2022. "Efek Fatigue Terhadap Respon Time Penanganan Penderita Gawat Darurat Kategori Australasian Triage Scale 1-5 Versi Indonesia." Faletehan Health Journal 9(02): 209–19.
Lipstiani, Winda, and Dina Rahmawati. 2022. "Faktor Yang Mempengaruhi Kepatuhan Masyarakat Terhadap Protokol Kesehatan Di Masa Pandemi Covid-19 Factors Influencing Community Compliance with Health Protocols during Covid-19 Pandemic." 9(3): 327–34.
Mukattash, Tareq L., Anan S. Jarab, Amani Khawaldeh, and Mohammad Nusair. 2019. "Parental Self-Treatment of Their Children in Jordan, a Qualitative Study." Journal of Pharmaceutical Health Services Research 10(3): 317–23.
Oshikoya, K. A., O. F. Njokanma, J. A. Bello, and E. O. Ayorinde. 2007. "Family Self-Medication for Children in an Urban Area of Nigeria." Paediatric and Perinatal Drug Therapy 8(3): 124–30.
Oshikoya, Kazeem A., Idowu O. Senbanjo, and Olisamedua F. Njokanma. 2009. "Self-Medication for Infants with Colic in Lagos, Nigeria." BMC Pediatrics 9(1): 1–8.
Pavydė, Eglė et al. 2015. "Public Knowledge, Beliefs and Behavior on Antibiotic Use and Self-Medication in Lithuania." International Journal of Environmental Research and Public Health 12(6): 7002–16.
Sambakunsi, Cecilia S. et al. 2019. "Knowledge, Attitudes and Practices Related to Self-Medication with Antimicrobials in Lilongwe, Malawi." Malawi Medical Journal 31(4): 225–32.
Yu, Miao et al. 2014. "Knowledge, Attitudes, and Practices of Parents in Rural China on the Use of Antibiotics in Children: A Cross-Sectional Study." BMC Infectious Diseases 14(1): 1–8.
Yulifa, U S P, E Rimawan, T M Alifia, and O Julyanto. 2021. "Evaluation of the Implementation of Occupational Health and Safety (OHS) to Improve the Safety Behaviour of Workers in the Cosmetic R&D Laboratory …." Ijisrt.Com 6(8). https://ijisrt.com/assets/upload/files/IJISRT21AUG814.pdf.
Yuniar, Euis Ismayati, A Machron Chairulfalah, and Lia Nurliana. 2022. "Sosialisasi Sanitasi Total Berbasis Masyarakat Di Desa Sukasari Dan Panunggulan Kecamatan Tunjung Teja Kabupaten Serang." 15(2): 94–101.
Zhou, Zhongliang et al. 2021. "Understanding Parental Self-Medication with Antibiotics among Parents of Different Nationalities: A Cross-Sectional Study." Global Health Research and Policy 6(1). https://doi.org/10.1186/s41256-021-00226-y.
Zuniawan, Akhyar, Octoberry Julyanto, Yohanes Bangun Suryono, and Zulfa Fitri Ikatrinasari. 2020. "MPLEMENTASI METODE BALANCED SCORECARD UNTUK MENGUKUR KINERJA DI PERUSAHAAN ENGINEERING (Study Case PT. MSE)." Journal Industrial Servicess 5(2): 251–56.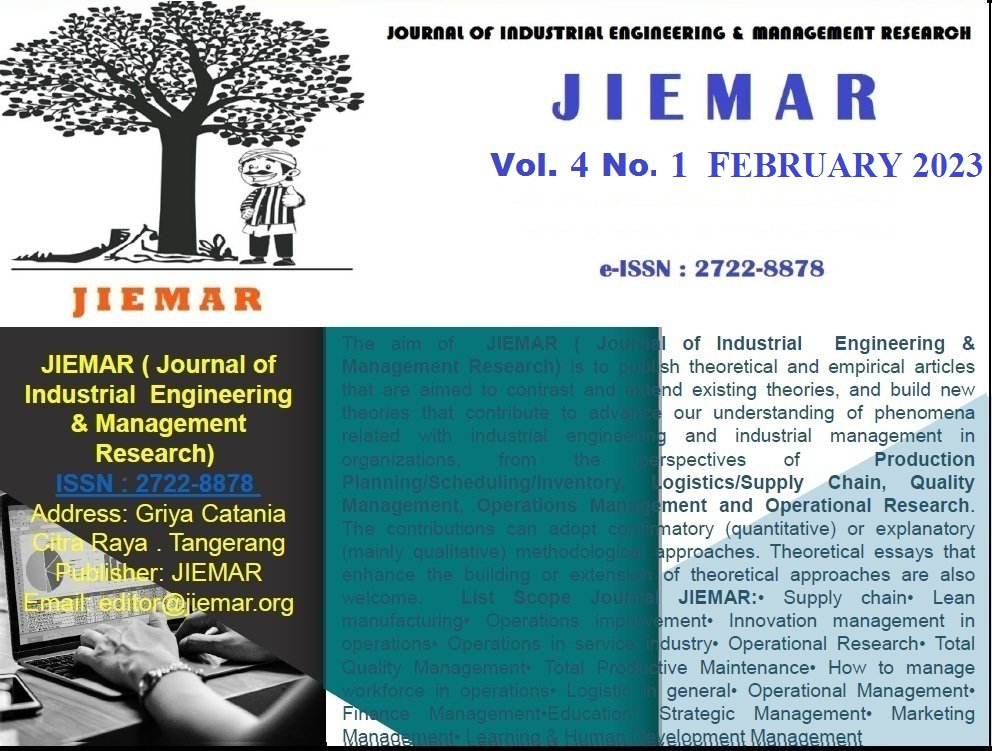 How to Cite
Nurliana, L., Chairulfakah, A. M., & Budiyanto, A. (2023). THE RELATIONSHIP BETWEEN PARENTS' KNOWLEDGE LEVEL AND RATIONALITY OF DRUG USE IN DRUG SELF-MEDICATION MANAGEMENT IN CHILDREN WITH FEVER IN PULOMERAK BANTEN. Journal of Industrial Engineering & Management Research, 4(1), 53-61. https://doi.org/10.7777/jiemar.v4i1.445